Overhead Door Company of Northern Ohio
Industrial and Commercial Door Services
Commercial Door Operators
Commercial door operators from Overhead Door Company of Northern Ohio, provide an integrated door system that comes with our guarantee for reliable performance when you need it most — every day. We carry a variety of door operators for your commercial or industrial needs. We have heavy duty door operators standard duty door operators. Built with convenience in mind, our automatic door operators also make it safer and easier to perform daily job duties so you can improve efficiency and close the door on your competition. We handle sales, service and installation of door operators in Northern Ohio."(add) The Cleveland Metro's trusted source for door operators.
Northern Ohio's Overhead Door automatic door operators are manufactured to meet the performance requirements of our commercial and industrial doors, offering precise control of your door system for years of trouble-free operation. To improve safety and enhance the life of your door and motor, the industry's guidelines for quality assurance recommend a single manufacturer for both door and operator.
Overhead Door Company of Northern Ohio is the only manufacturer that offers a full line of commercial and industrial doors and operators specifically designed for integral applications. We offer the industry's broadest line of electric, automatic door operators to suit new construction and retrofit applications, as well as unusual or special requirements. Overhead Door commercial operators are UL 325 2010 compliant.
The new RHX® heavy duty commercial operators from Overhead Door Corporation provide easy and reliable operation for the most stringent applications.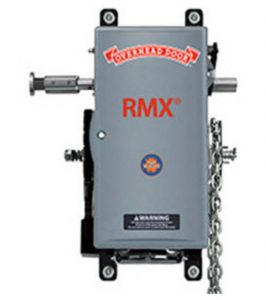 RSX® STANDARD DUTY OPERATOR
Showcasing state-of-the-art performance features, this standard-duty, rolling-door commercial operator provides easy operation and superior functionality for demanding applications.
RMX® MEDIUM DUTY OPERATOR
One of the industry's advanced products, this belt-driven, medium-duty garage door operator offers easy installation and hassle-free operation
CDX® COUNTER DOOR OPERATORS
The CDX® counter door commercial operators from Overhead Door Corporation provide durable and reliable operation for use in a variety of applications. This operator is UL 325 2010 compliant.
Overhead Door Company of Northern Ohio services and repairs rolling steel doors, overhead doors, counter doors, fire doors and sectional doors. We carry the parts to meet your industrial door needs and we can supply the right part for 75% of all dock equipment made in the United States. Our repair technicians service all of Northern Ohio.
Emergency service 24 hours per day