Overhead Door Company of Northern Ohio
Industrial and Commercial Door Services
Overhead Doors Company of Northern Ohio offers a wide array of rolling fire doors. Our rolling steel fire-rated doors meet the most demanding fire safety standards, unusual opening sizes and discerning aesthetic requirements. We carry commercial and industrial fire doors. We can install insulated fire doors for your business. Designed to close automatically in the event of a fire or alarmed event, our fire-rated doors are available for service door and counter applications in commercial, industrial, institutional and retail uses. If you need sales, installation or repair of fire doors in Northern Ohio we can take care of your business needs.
All of our fire-rated doors comply with NFPA-80, and are listed for both masonry and non-masonry applications — including installation to wood or ste Sentinel™ time-relay release mechanism provides an added measure of safety to control the doors' closure. Also available is the Fire Minuteman™ Chain Reset Hoist, designed to eliminate the need to release a fire door's spring tension on fire drop mode and allows one person to reset the door from the floor.
ROLLING SERVICE FIRE DOORS
The 630 / 631 / 634 Series rolling steel, fire-rated service doors offer superior protection wherever a listed fire door is required. Common applications include factories, warehouses, mills, distribution centers and parking garages. Customized fire doors are available for conveyor openings. These doors feature fusible links mounted on both sides of the wall that separate to automatically close the door. Added protection features, such as Fire Sentinel™ and FireLite® vision lites are optional.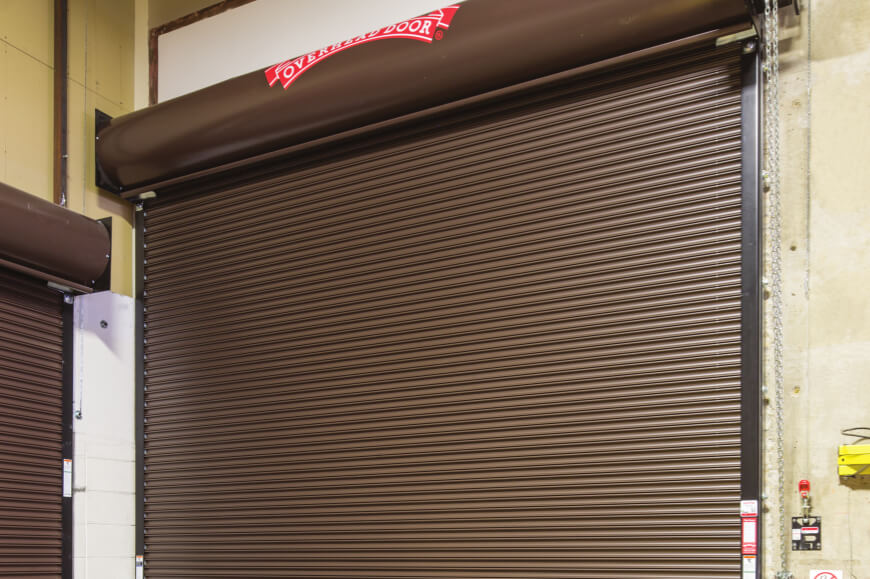 FIRE KING™ ROLLING SERVICE INSULATED FIRE DOORS
The FireKing™ is a commercial rolling insulated fire door that offers the triple benefits of insulation, fire protection and sound attention; this one door eliminates the need for separate fire and insulated doors. FireKing™ has many product features that enhance its performance, including: UL, FM, New York City MEA, California CSFM and Optional "S" smoke label with up to four hour labels for both UL and FM. This means Overhead Door's FireKing™ Insulated Fire Door is available in four hours for masonry and three hours for non-masonry walls. An "R" value of 4.5 means FireKing™ serves as a thermal barrier, perfect for applications which require separation because of climate control requirements while at the same time it can be used as a Fire Door opening. The mineral wool insulation material is compressed within the slat, completely and uniformly filling the slat for maximum insulation.
Overhead Door Company of Northern Ohio services and repairs rolling steel doors, overhead doors, counter doors, fire doors and sectional doors. We carry the parts to meet your industrial door needs and we can supply the right part for 75% of all dock equipment made in the United States. Our repair technicians service all of Northern Ohio.
Emergency service 24 hours per day